CAPITAL STRUCTURE OF POLSAT GROUP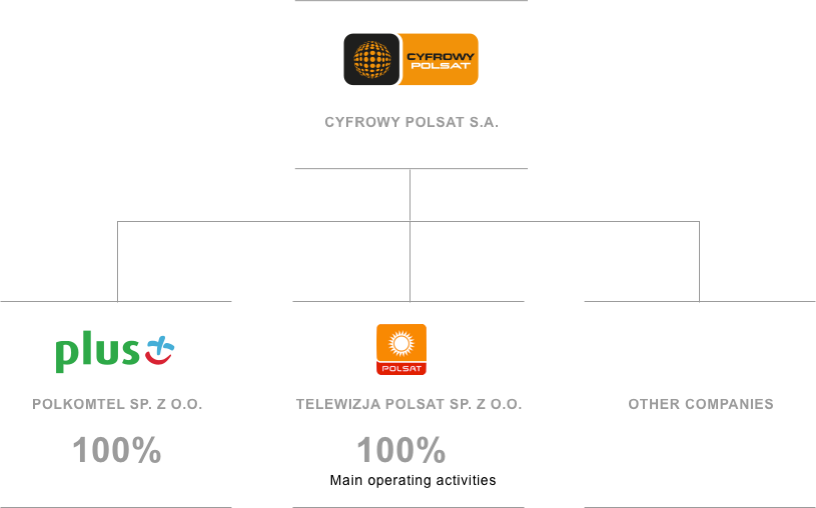 Key areas of activities
PAY TV
Cyfrowy Polsat is the biggest pay TV provider in Poland and the leading DTH platform in Europe in terms of customer base size.
It ensures access to over 180 channels, including 80 HD channels.
Thanks to Cyfrowy Polsat GO service, customers have access to thousands of shows available on demand and over 100 linear channels consistent with the satellite TV package selected by the customer. Thanks to On the Go option it can be also used on three devices simultaneously: a PC, tablet and smartphone.
Cyfrowy Polsat's Multiroom HD service enables use of the same TV package on as many as 4 TV sets.
The platform has own broadcasting center which enables us to transmit TV channels to the transponders on the Hot Bird satellites.
Cyfrowy Polsat is the only operator offering its own set-top boxes. This way we can control the production process, effectively manage costs and offer high quality equipment which meets our customer needs.
Online video
IPLA is the leader of online video market in Poland, with the biggest legal base of TV content.
It offers over 90 channels and several dozen thousands of VOD2 materials, including several hundred TV series, documentaries and kids programs.
It offers around 200 hours monthly of live coverage from major sports events in Poland and abroad, a rich and constantly expanding library of movies, series and TV programs delivered by Polish and international licensors
IPLA materials can be viewed on PCs, tablets, laptops, smartphones, smart TVs, as well as via set-top boxes and game consoles.
TELECOMMUNICATIONS
Mobile telephony
Polkomtel Sp. z o.o. is the leading telecommunications operator in Poland who provides its services under the Plus brand. The company is the leader of LTE technology and relies on the most advanced telecommunications solutions while developing services for its customers:
The residential contract offer includes a variety of contract plans. Currently, it is available in the contract and prepaid model as well as in the mix offer (a combination of a prepaid and contract offer).
Business customers are mainly offered contract solutions, often on the basis of tenders which are invited by customers. We also offer fixed telephony services, LAN (local area network)/WAN (wide area network) solutions, mobile broadband Internet access, SMS Center services and other dedicated solutions.
Mobile voice services for SOHO (Small Office/Home Office) customers comprise several monthly subscription fee options, taking into account the specific preferences of this segment.
Plus provides international roaming services to our residential customers, who can use telecommunications services while being abroad and logged on to foreign networks. On the territory of the European Union and in the European Economic Area (EEA) countries the maximum retail roaming rates for voice calls, SMS's and data transmission applicable to international roaming are subject to regulations and starting from 15 June 2017, they were equalized with domestic prices (Roam Like at Home regulation). Our customers may use roaming services such as voice calls, SMSs and MMSs as well as data transmission on the territory of the European Union and in the EEA countries at the level of domestic prices, without incurring any additional costs. Furthermore, we offer to our customers a possibility of purchasing promotional roaming data packs, covering both European countries and other, popular travel destinations, thanks to which customers can choose the roaming offers which meet their particular needs.
Plus offers a wide array of state-of-the-art handsets and smartphones from such leading manufacturers as: Samsung, Huawei, Apple, Sony, LG but our offer also includes low and mid-end handsets of smaller manufacturers. Handsets are sold mainly in the installment plan model (with or without an initial fee).
Broadband Internet access
Polsat Group provides a comprehensive mobile broadband Internet access and data transmission services to both residential and business customers under two main brands: Plus and Cyfrowy Polsat, using LTE Plus technology since 2011 and currently also offering LTE Plus Advanced option.
In return for a single monthly fee our offer includes broadband Internet access relying on all supported data technologies. Thanks to this, nearly 100% of Poles live within the coverage area of our LTE Plus Internet service, while 54% of Poles are within the coverage footprint of our LTE Plus Advanced Internet service with the maximum technological data transmission speed of 498 Mbps.
The offer includes several data packs with different allowances and price tiers, tailored to customers' individual needs.
Customers deciding to use our mobile broadband Internet access services may choose between dedicated contract plans, prepaid plans and promotions, as well as data packs offered as an addition to voice tariffs.
Contract price plans offer basic mobile broadband Internet access. In return for a monthly fee they offer either a limited data allowance or data transmission in LTE Plus network without limits under an additional service. While using this offer, customers may purchase or lease, among others, dongles, fixed and mobile routers. In addition, the offer also includes laptops, tablets and other devices, as well as offers without equipment – SIM only.
As regards the services provided in the prepaid model, upon topping up the prepaid account the customer is offered a specific data pack whose size and validity depend on the top-up amount.
The Group has also introduced the LTE Home Internet set, a unique solution developed in-house, as an alternative to fixed-line Internet access, which can considerably enhance the coverage area and signal strength of the LTE Internet. The latest 300 LTE Home Internet set supports the LTE Plus Advanced technology and enables data transmission with maximum download speed of even up to 300 Mbps.
MULTI-PLAY SERVICES
We believe that combining of state-of-the-art services of Cyfrowy Polsat Group may produce measureable benefits for our customers. Our companies – Cyfrowy Polsat and Polkomtel – offer multi-play services, including a joint smartDOM program which allows for flexible combining of as many as nine products and services.
smartDOM is a unique savings program for homes which offers a wide array of products and services, thus enabling our customers to create a comfortable, safe and modern home. The program is based on a simple and flexible mechanism – a customer subscribed to one service with a specified value who purchases additional products of our Group, obtains attractive discounts throughout the entire term of the contract. This way every customer has the possibility to create a unique set of services for the family.
Apart from our basic, core products and services, i.e. Plus mobile telephony, LTE Plus and Plus Advanced LTE Internet and satellite TV from Cyfrowy Polsat, smartDOM customers can also use services of digital terrestrial television with 12 scrambled TV channels and 11 radio channels, fixed-line telephony, the electricity supply under the Electricity from Plus offer and also supply of natural gas, banking services offered by PlusBank, comprehensive insurance services offered in cooperation with ERGO Hestia and home security services, such as monitoring. Moreover, the offer also comprises telecommunications devices, home electronics and household appliances.
All of the offered products and services are important for households. Thanks to the unique formula of the smartDOM program, the customer can purchase all the products and services that households need from one place and generate savings on each additional service bought.
Our smartFIRMA loyalty program, addressed to business customers of SOHO segment, operates on similar rules as smartDOM.
TELEVISION (BROADCASTING AND PRODUCTION)
TV Polsat
Polsat Group's portfolio comprises 29 channels, including 19 HD channels. The channels we broadcast include entertainment, sports, news, music, lifestyle, movie and children's channels. Our channels are available via cable and satellite. Six channels we offer – POLSAT, Super Polsat, TV4 and TV6, Polo TV, Eska TV – are part of the digital terrestrial television (DTT) on multiplexes MUX-1 and MUX-23.
POLSAT, the main channel of our Group, is one of the leading television channels in terms of audience share in the group of viewers which is most valuable to advertisers (the so-called commercial group, viewers aged 16-49) – in 2017 it achieved 12.3% share in the commercial group. POLSAT's fine result in 2017 is the effect of its attractive and consistent programming offer, including successful spring and autumn schedule of the TV station which offers entertainment, films and TV series, one of the leading news programs, Wydarzenia (The News), as well as thrilling sports coverage.
2017 ended successfully also for the whole Polsat Group with the audience share of 24.5% in the commercial group.
The content offered by the Group is attractive and diversified thanks to the following factors:
Polish productions make up around 60% of all broadcast content4. Polsat strives to diversify the sources of its programs, which is intended to guarantee effective production cost management. Thanks to this, while having access to a broad portfolio of programs and in order to guarantee successful programming, Polsat is able to choose the offers which are both attractive and cost effective.
Foreign productions. Licenses for foreign programs are to a great extent related to purchasing the rights for airing movies, TV series and sports events. Major film studios are the Group's key partners in acquisition of films and TV series. These partners include Sony Pictures TV International, 20th Century Fox TV, The Walt Disney Company, Warner Bros International TV Distribution, CBS Studios. Monolith Films is also a party offering foreign productions.
Licenses for sports events. We offer a broad range of sport broadcasts, including among others qualifying matches for the 2020 UEFA European Championship and 2022 FIFA World Cup, two editions of the UEFA Nations League 2018/19 and 2020/21, great tournaments and attractive volleyball matches – Volleyball Women's and Men's World Championships 2018 and 2022, new very attractive matches of the Volleyball Nations League (2018-2024), FIVB World Grand Prix 2019 and 2023 and qualifying tournaments for the Olympic Games in Tokyo (2020) and Paris (2024), Plus Liga and Orlen Liga volleyball matches, boxing and martial arts (KSW, FEN and UFC) galas, Wimbledon and ATP 1000 and 500 tennis tournaments and many other disciplines. In 2017 we also acquired the rights to the most popular football matches in the world – UEFA Champions League and UEFA Europa League (for years 2018-2021).
2 VOD (Video on Demand) – the service which allows for watching film materials or listening to an audio recording on demand

3 MUX, i.e. a package of television, radio channels and additional services broadcast simultaneously in digital form to the recipient in one frequency channel.

4 Data for channels: POLSAT, Polsat2, Polsat Play, Polsat Cafe, Polsat Film, Polsat News, Polsat Sport, Polsat Sport Extra, Polsat Sport News, Polsat News 2, TV4, TV6, Polsat Romans, Disco Polo Music, Polsat Music, Super Polsat.
Wróć do początku strony